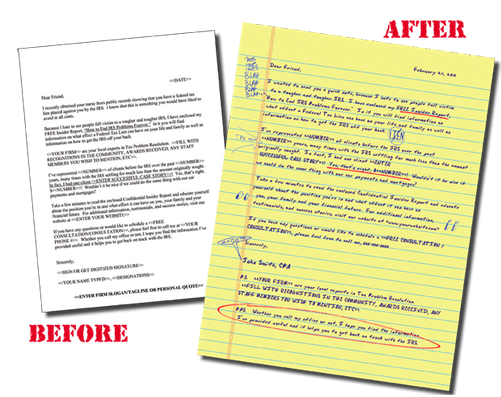 This printer-friendly Yellow Lined Paper looks exactly like the paper from the yellow lined pads.  It is double sided so you can continue your letter on the back if you like.  Notice how the sales letter on the Yellow Lined Paper stands out!
The Yellow Lined Paper can be used in any printer just like you would use regular paper.  Use Yellow Lined Paper with regular fonts or specialty handwritten fonts.  Sold in quantities of 500, Yellow Lined Paper delivers better results at a more affordable price!
More on using Yellow Lined Paper…
Question:  How do I hit the lines on the Yellow Lined Paper? 
Answer:  Setting the spacing on your document will help you hit the lines but typically the Yellow Lined Letter is more effective when it is less structured and the writing is more randomly placed.  You can play with the spacing but really it does not matter.  It is even more interesting if it is not perfect!


Question:  I know that statistics show that the Yellow Lined Paper increases readership but how do I get them to open the letter?
Answer:  Mailing your letter in a plain #10 window envelope will allow for your audience to sneak a peak at the letter inside or use a graphic intense envelope.


Question:  Why should I use paper if everything is going electronic?
Answer:  Do you want to stand-out with your very targeted list?  Then do something completely different! Use a mail piece to that list! Yellow is especially good for attracting customer attention when mixed with black or blue handwriting fonts.


Notice how toxic signs and other warning signs tend to use yellow and black.    
Increase your response rates by using Yellow Lined Paper for all of your printed sales materials.WARNING!  Yellow paper from a pad will break your printer!!!