WordPress Sites
PDA Marketing uses WordPress to create functional, easy to use sites. WordPress allows the user login and edit their own content, so keeping your website updated is a breeze. PDA creates beautiful sites that are programmed to maximize search engine optimization and improve your visibility on the internet. For more info on why WordPress is the best choice for your website: Click ere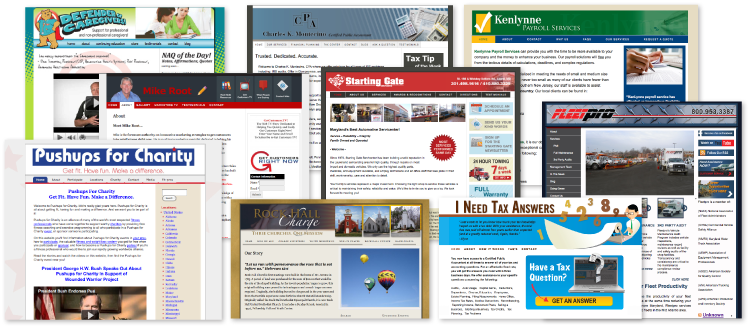 Mobile Websites
While having a website is important, there are now more mobile devices being sold than computers or laptops. Buyers are increasingly searching on their phone. Learn more about Mobile Sites Here.
Web Development
Marketing experience and knowledge are the essential elements in web development that are needed to build a comprehensive web marketing. PDA's ability to marry award winning graphics with functionality deliver web sites that are attractive and SEO friendly.
A sampling of PDA's sites:
Graphic Design
PDA has a complete in-house graphic design department and creative team. Comments such as "you nail it every time,""Unbelievable" and and "Genius!" are recorded daily. Recently, Theresa Ratajczak delivered a creative submission and was told by the marketing director of a New York-based firm, "If I would have chosen the top six designers in the country to submit a creative concept, none would have presented a more perfect creative element and pleasing visual brand."
Understanding the need to match a message with graphic elements that hit the mark with the target audience give PDA the winning edge. "Looking at the big picture and seeing how all the components fit together is the key to our success," reports Andrea Ratajczak.
PDA offers in house graphic services that include creative services, outdoor creative, identity packages, print ads, annual reports, brochures, direct mail and product packaging, web banner creation, mobile media, landing page development unconventional cost effective mailers, drip mailers and more.
Information Product Development
Brochure Design
Graphic Design for Billboards
Packaging and Package Design
On-Site Recording and editing
Identity Packages
Direct Mail
Logos
You Tube Pages
Outdoor Advertising
Newsletter design
Online Newsletters
Web Design
WordPress Sites
Annual Reports
Brand Development
Sales Staff Management
Sales Motivation
Ad Creation
Vehicle Graphics
Poster Design
Magazine Layout and Design
Catalogs
Lumpy Mail
Tear Sheet Design
Sales Letter Design
Mobile App Development
Mobile Website Development
Text Message Campaigns
Strategic Marketing
PDA Marketing has secured a unique niche among worldwide advertising and marketing companies serving a diverse range of industries. With this broad experience and an innate understanding of the marketplace, PDA Marketing holds high marks for successful implementation of marketing campaigns; no other firm delivers the same results, time and again, on time and under budget.
From direct campaigns to Web design and marketing strategies, to new online marketing techniques and information dissemination, PDA Marketing has a clear understanding of what combination of resources will reach the desired target audience.
Specializing in media placement, public relations, development and mapping of advertising plans, production of multimedia advertisements and creation of promotional tools for both general consumer and business-to-business clients, PDA will deliver a results driven campaign.
Customized YouTube Pages
PDA specializes in creating customized YouTube and Twitter backgrounds that use the valuable real estate of these social media outlets to drive users to subscribe to your feeds.  Using enticing images, vital information, handwritten elements and even client testimonials, these backgrounds will get you "Liked"!
Information Product Development
PDA can create a marketable multi component product from as little an audio CD, transcript or DVD presentation. As an "expert" you will be able to build your "information product" easily and quickly. Our ability to understand who your target audience is and identify the image and look that will stimulate your potential customer to make a purchase will help you get results quicker. Whether it is an ebook or online download or just a freebie, a printed hard copy… the way that product is presented visually is essential. So many times we see covers and look and feels that totally miss the mark.
PDA has designed many of the Bill Glazer – Dan Kennedy information products looks such as: 8 Big Ideas, Sales and Persuasion Strategies, Renegade Millionaire Time Management, Personality in Copy, Power Points, Creative Thinking, No BS On-Line Training to name just a few. In a recent overhaul of his product offerings, Rod Stucky, of Dealership University states, "You Rock!! You Nail It Every Time!". Sean Greeley and Eric Ruth of Net Profit Explosion give PDA high marks for creating compelling looks for their products.